Awesome Notes: the Best Replacement for Apple's Notes Application
I imagine several hundred iPhone applications are released everyday by Apple, but when an application comes along that is ten times better than one of Apple's default programs, it deserves a 5-star review. The application I'm speaking of is the appropriately titled Awesome Notes, developed by Bridworks. If you've always known that Apple's Notes application for the iPhone and the iPod touch is very limited, well Awesome Notes is a worthy solution and replacement for it.

Awesome Notes is beautifully designed, easy to use, and functional. The biggest difference between Bridworks' and Apple's application is that Awesome Notes actually allows you to organize your notes into folders. Wow, what a concept! You would think after three iPhone system upgrades Apple would have included a simple feature for managing notes. But maybe that's a good thing, because Awesome Notes does the note taking program the right way.

I've read another review of this awesome application that is downright nitpicky. The reviewer said the application has too many features making it a challeng to use. But after using the Awesome Notes for less than one minute, I thought I and the reviewer were using two different applications.

You can actually use Awesome Notes straight out of the box, so to speak. Folders and sample content are already set up. All of you have to do is customize the titles of the existing folders, add a few more your own if need be, and the application is good to go.

Awesome Notes features include:
Customizable pages and folders with colored folders and unique icons
Backup and Transfer to Google Docs
Password protection for folders
Landscape, list and thumbnail view

The one nifty little Quick Memo feature makes Awesome Notes stand above other similar note taking applications. Quick Memo is for jotting a note outside a folder or existing page. You can later save the note into a folder. When I used the Apple's Notes, I created a similar quick note page, but Bridworks's version is based on how we users want to input a quick note.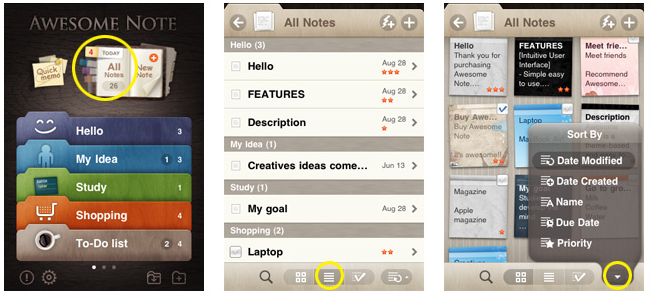 Bridworks has also made it possible for users to customize nearly the entire user interface of the application. I'm sure these developers get a long list of recommendations for improvement, but at version 1.6 the existing features are very sufficient, in addition to the posted list of forthcoming 2.0 updates awaiting Apple's approval.

I realize the popular and free Evernote application may be enough for many iPhone and iPod touch users, but Awesome Notes is worth four bucks because of its easy access and sleek design. I use Evernote also, but it's more like a file draw of documents than a note talking application. The graphic interface of Awesome Notes is more accessible and functional than Evernote. And when Bridworks includes a way to add images to notes, it will have a perfect application.

Awesome Notes is so good I wish there were a way to permanently erase Apple's Notes from my iPhone.